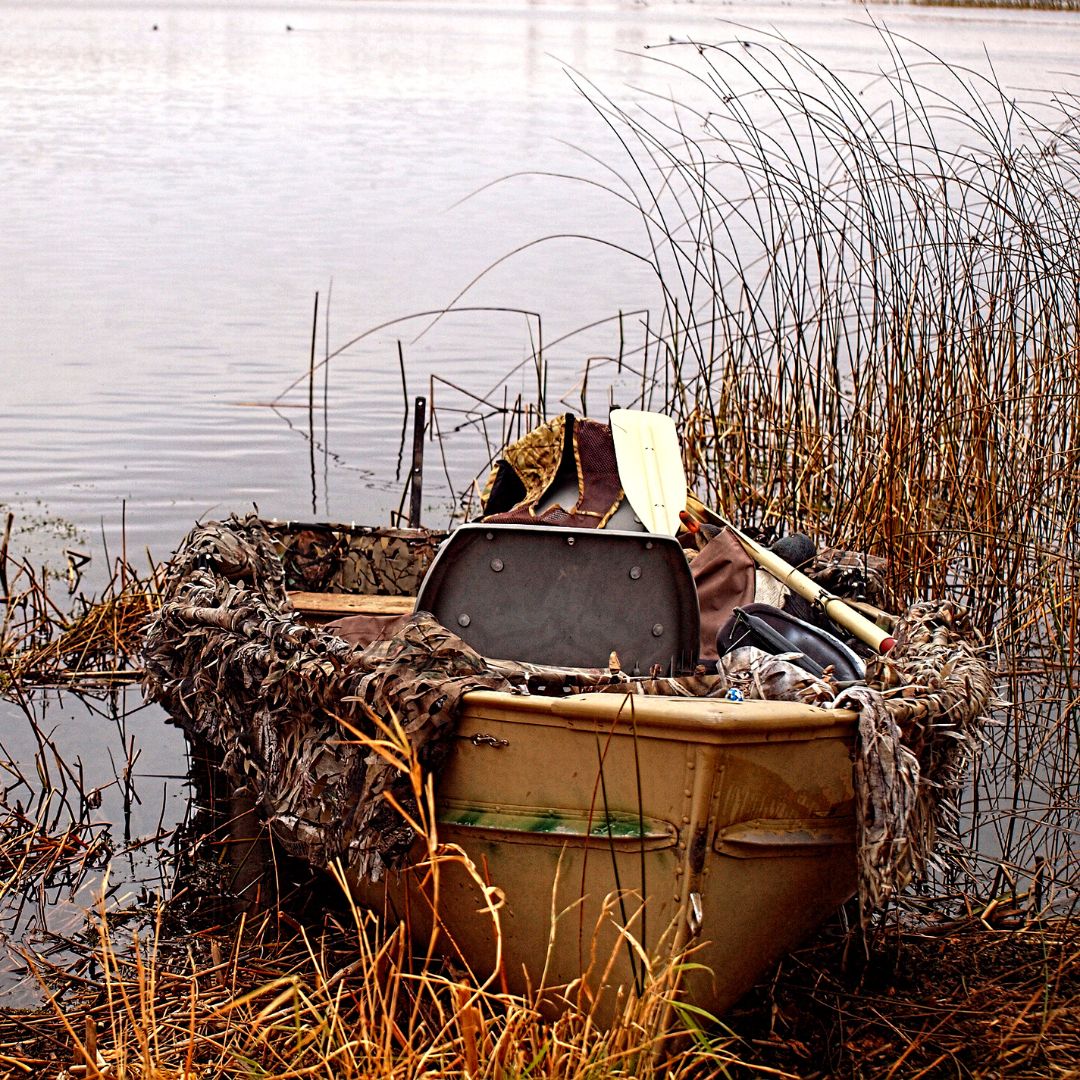 We have searched high and low and found the Drake Waterfowl Blind Bag 2.0 to be the best duck blind bag on the market.
After waterfowl hunting for many years we have come to appreciate the importance keeping our gear organized.
And a blind bag is a great way to do that.
Everything from chokes, calls, ammo, to snacks can be stored in one.
The Drake Waterfowl Blind Bag is simply everything we could ask for.
But we appreciate not every waterfowl hunter has the same needs so we have highlighted who we think each bag will work best for.
Let's get started.
6 Best Duck Hunting Blind Bags
1. Drake Waterfowl Blind Bag 2.0
Key Features:
Floating Blind Bag
PVC Backed HD2 Material
Foam Padding
Waterproof Liner
Shoulder Straps and Handle
If you are looking for the ultimate duck blind bag, one that will protect all your gear… the Drake Waterfowl Blind Bag 2.0 is our top pick.
Here's why this bag is already so popular among duck hunters.
Drake makes it from a PVC backed HD2 material that is tough and durable. The material wraps around a closed cell foam padding which is what makes the bag float in water.
If you are wonder whether it's water resistant, the bag comes with an internal waterproof liner to protect your stuff.
The shoulder strap and handle make it convenient to carry to and from the blind.
Given all the above, it is easy to see why we like it so much.
Pros:
It floats well.
Waterproof liner keeps everything dry.
Cons:
2. MOJO Guide Blind Bag
Key Features:
Floating Blind Bag
Waterproof Liner
Shoulder Strap and Handle
The MOJO Guide Blind Bag is a very close second pick. It was a tough decision because we like this bag a lot as well.
If you are looking for a bag that can hold a lot of gear, this bag has a ton of room. This bag is big enough to put a decoy in and as shown in the video below works well for traveling too.
The exterior is durable, you can feel the quality with your hands.
It also has a waterproof liner to keep your gear dry and it is removable so you can was it when it gets dirty.
Pros:
Built in flotation.
Removable waterproof liner.
Cons:
Can be hard to find one in stock.
3. Rig'Em Right Waterfowl Shell Shocker Blind Bag
Key Features:
Floating
18 Compartments
Hard Sunglasses Case
Water Bottle Pocket
Padded Shoulder Strap and Handle
Water Resistant
The Rig'Em Right Shell Shocker blind bag is the newest addition to our list of products reviewed.
This is another really nice bag with some cool features.
One unique feature is the built-in hard sunglasses case. When you invest in a good pair of hunting sunglasses, you want to keep them safe when you are using them. This bag helps you do exactly that.
Our one gripe with this bag is that it is only water resistant and not waterproof. If it were waterproof it would be in the running for our favorite bag.
Pros:
Hard Sunglasses Case
Tons of pockets make it easy to stay organized
Cons:
Water resistant, not waterproof
4. ALPS OutdoorZ Blind Bag
Key Features:
Waterproof Sealed Membrane
Floating
Interior Divider
Choke Tube Holder
Shoulder Strap and Handle
The ALPS OutdoorZ blind bag comes in fourth, and again, most hunters will be thrilled with this bag.
ALPS OutdoorZ has grown a lot in popularity the last few years because they offer high quality hunting bags for an affordable price.
Like the models above, this bag floats and has well thought out dividers inside for staying organized.
ALPS makes the bag using a waterproof sealed membrane.
If you carry extra chokes, this bag incorporates some cool pockets inside specifically for holding choke tubes.
The should strap and handle are comfortable and convenient.
Pros:
Waterproof sealed membrane keeps everything dry.
Choke pockets are awesome.
Cons:
Doesn't float as well as the top 2 picks.
5. Avery Power Blind Bag
Key Features:
Durable Polyester
2 Interior Mesh Pockets
High Quality
Shotgun Shell Slots
The Avery Power blind bag is another high quality blind bag.
Avery uses a durable polyester for the outershell and it has a few interior mesh pockets for organization. The shotgun shell slots on the outside are nice for organizing ammo as well.
The front zippered pocket is great for holding small items you want easily accessible.
The things we don't like about this bag are:
It is not clear whether or not this bag floats.
The description doesn't mention much about water resistance.
The bag is on the small side.
With that said, other hunters are very happy with this bag so it is worth a look.
Pros:
Quality of the bag is great.
Cons:
Shell holders are too small.
Bag is a little small for our tastes.
6. EVER ADVANCED Blind Bag
Key Features:
Durable Shell
Water Resistant
Lots of Storage
Shoulder Strap and Handle
The EVER ADVANCED blind bag is our pick for the best budget blind bag. It has a lot going for it, especially at this price point.
It has a ton of space to store extra ammo, calls, snacks, etc.
The outershell is water resistant and it feels like it can weather some abuse.
The zippers are also very good.
Our biggest knock against this bag is that it does not float. If this is important to you, look elsewhere.
All in all, if you are on a budget, you can't go wrong with this blind bag.
Pros:
Overall Quality is great for the price point.
Cons:
Blind Bags to Avoid
This bag isn't terrible but in comparison to the bags above, it falls short. For the price we would pick any one of the bags recommended above over this one.
The buckles aren't very easy to use and would be even harder with gloves or cold hands.
Guide to Buying a Blind Bag for Duck Hunting
When selecting a bag for waterfowl hunting, there are a lot of factors to consider.
For starters, you need to ask keep in mind what specific needs you have.
What type of blind do you hunt from? Is there a chance your bag can fall into water?
If so, you should probably lean towards getting a floating blind bag.
Do you need to carry your bag a long distance to get to your blind?
If you do, then padded shoulder straps might be a feature you will benefit a lot from.
Main Waterfowl Blind Bag Features to Consider
Here are some of the main categories we considered when ranking the bags above.
Floating
If there is any chance your bag can fall in the water, we think this is a must have feature.
A floating blind bag can save all your valuable gear if your bag accidentally falls in.
Storage Space
The whole point of blind bags is to keep your gear in a single, easy to carry place. You want a bag big enough to hold all your goods.
At the same time, if you like to pack light you don't want something bigger and bulkier than you need.
Try to give some thought to what you plan on putting into your bag before you buy it (see below).
Organization
Like we mentioned in the intro, we try to place a lot of importance on keeping your gear organized.
Extra features like pockets and pouches like choke tube holders can really help keep you organized.
Weatherproof
Since ducks like the rain, a lot of waterfowl hunting takes place is bad weather.
A bag that doesn't keep your stuff dry isn't all that helpful. When you go to grab those extra shells or snacks, you want them to be nice and dry.
Quality/Durability
Duck hunters are rough on their gear. Between the mud, water, and abuse hunters put their bags through, a well-made durable bag can be a godsend.
All of the recommendations above should hold up to years of use.
Comfort
The last feature worth considering is comfort. This is especially important if you have to carry your bag a lot.
An adjustable shoulder strap or some extra padding can make those walks to and from the blind much more tolerable.
What to Store in Your Blind Bag
Having all your duck gear in one convenient place gives you a lot of peace of mind knowing that your gear will be there when you need it.
With a floating case you won't have to worry about losing it all in the horrific event that it slips into the water.
A blind back is perfect for housing:
Calls. We like to keep ours on a lanyard so they are handy safe. Once we get into the blind you can pull them out and start calling away.
Chokes. If you bring extra chokes, blind bags are a great place to keep them.
Shells. Keep your shells in your blind bag so you never forget them again.
Face Paint. We always keep some face paint handy in our bag. It's so cheap, it's only makes sense to keep extra around.
Snacks. A good snack spread is always nice to have on hand for when you get hungry in the blind. For some ideas, checkout some of our favorite deer hunting snacks.
Head Lamp. A good head lamp can make those early mornings much easier to navigate.
Decoy Gloves. Some of the blind bags above have enough space that you can store your decoy gloves in them.
Our Verdict
A good blind bag is something every waterfowl hunter will need at some point.
As you accumulate more and more hunting gear, you have to find a way to store and organize it.
Every hunter has different needs. There are a lot of great options to choose from in this article.
But for most duck hunters the Drake Waterfowl Blind Bag 2.0 is going to be an excellent choice.
If you are interested in reading more reviews checkout our page on Duck Hunting Gear.
FAQs
Are these bags waterproof?
Not all the bags above claim to be waterproof. The Drake, MOJO, and ALPS have waterproof liners. Some are water resistant and the others do not mention how well they handle water.