Searching for something funny?
With the holiday fast approaching we have been looking for gag gift ideas for other deer hunters we know.
If you have a deer hunter on your list of people to buy gifts for look no further.
The list of gag gifts below will save you a little time and add some humor to your celebration.

Finding memorable gifts can be challenging. Some of our favorite gifts are are often times the ones that make people laugh. 
We wanted to share the best funny hunting gifts we have come across.
Did you wait until the last minute?
Don't worry, a number of these items are eligible for amazon prime. We hope you are as excited to give some of these gifts as we are.
If you know of any other great gag gifts for hunters please let us know so we can add them to our list.
Our Favorite Gag Gifts for Hunters
This is some awesome wall art for your man cave, backyard, or garage. Perfect to gather around and tell some good hunting stories. It is nicely constructed and good looking too so the wife will be a fan as well.
Hang it in the office for everyone to see! You can customize this deer hunting diploma certificate your hunter's name and graduation date. They are guaranteed to get a good laugh and will think of you every time they see it hanging on their wall.
Quite possibly our favorite item on the list, this .50 cal pizza cutter has a built in bottle opener. It is the perfect combo for a pizza and beer night. Anyone into hunting or guns is sure to love it.

Here is a good one if you want to joke with a hunter buddy of yours. Would also be a good choice if they had some sort of recent hunting mishap. This is a nice subtle way of having a good laugh.
Best Buckin Dad Ever Coffee Mug
Does your dad love hunting deer? Does your dad drink coffee? Then this Best Buckin Dad Ever mug is a slam dunk. He is sure to think of you every morning as he sips his liquid gold.

Deer Baiting Sign
This baiting deer is illegal sign should help keep the deer from eating all your buddy's corn. The squirrels and chipmunks will appreciate it! If you are serious about feeding deer checkout our article on what to feed deer besides corn.
F It I'm Going Hunting T-Shirt
There's no way we could leave this one off the list. This F It I'm Going Hunting shit is perfect for when Monday rolls around and you don't feel like going to work. These come in many colors and sizes so you can please everyone.
Portable Toilet Seat
Know anyone who sets up camp for their hunts? Then get them this handy portable toilet seat. They will be thanking you after their next hunt and you will all have a good laugh when you give it to them.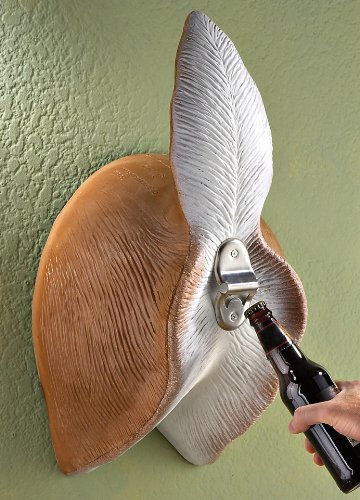 Deer Rear Bottle Opener
Your wife will love this gift. You should surprise her and hang it up in your house when she is not home. The look on her face when she sees the Deer Rear Bottle Opener will be worth every penny.

Pee-Pee Teepee
Perfect gift for the hunter with a newborn! Help him out with these Pee-Pee Teepees so he won't have to dodge bullets when changing his son. We got these for a friend and he thought they were hilarious.

Conclusion
There you have it, a list of gifts for all occasions. At the very least we hope you got a laugh out of this list of gag gifts. If you found this helpful, checkout some of our other gear guides.